Warning:
By entering this gay DVD site, you certify that you are of legal age in your country to view the adult hardcore all gay action sex films offered here on DVD and are of legal age to purchase them. You are also agreeing that you are not offended by nudity and/or sexually explicit material, including nude photos and hardcore gay adult dvds.
Jean-Daniel Cadinot was a French director and producer of gay porn films until his death in 2008.The director's technical skill, plus the natural ease of his mostly young casts, garnered him worldwide admirers and many awards. After Cadinot's death, the studio's gay dvds were directed by François Orenn in the typical Cadinot style and with Cadinot's technical crew.

Idées de Rêves - Studio: Cadinot France - new release

Idées de Rêves asks if you remember how the guys used to cruise and fuck before the internet and app era? At that time they used to wear faded jeans and black leather jackets. They'd wait in the train station and stare at guys for hours, before daring to exchange a few words. Filmed in the early 1990s, Jean Daniel Cadinot directs for your greatest pleasure five breath-taking scenes of pure sex.
Safari City - Gay DVD - Studio: Cadinot France
This release from Cadinot begins in the changing room at a market stall where the purchase of a pair of jogging shorts sets a French guy off on a series of sexual adventures with others shorts-and-singlet clad young men. Sunny outdoor and hot bedroom scenes dominate the eleven scorching sexual segme....
Sans Limite - Gay DVD - Studio: Cadinot France
Sans Limite follows the sexual adventures of 14 men who either live, work in or visit a Paris apartment building. An amazing twelve sex scenes keep the action moving at a franctic pace, starting with a horny real estate agent who seduces his young client while showing him around a flat.
Séance Particulière - Studio: Cadinot France
Some of us dream of spending life in a relationship with a boyfriend, while others dream of promiscuity. In Séance Particuliere a young photographer, faced with repeated and multiple temptation, struggles to keep his relationship alive.
Secrets De Famille - Gay DVD - Studio: Cadinot
Cadinot returns with Secrets De Famille, shot in the summer of 2004! Nine of Europe's sexiest young men get filthy with each other in this seedy tale of family secrets! Hard fucking, deep throat cock-sucking, and incredible cum-shots make this a trademark classic Cadinot. A luxurious house in the South Of France is the setting for dirty sex and debauchery.
Service Actif - Gay DVD - Studio: Cadinot France
Unlike much of Cadinot's work, Service Actif 1 is not primarily a youth-filled film. As usual, however, the sexual action is generous and intense, with ten glorious sexual scenes. This account of the sexual adventures of a French army platoon begins with the cocks and arses of nine guys being examin...
Service Actif 2 - Studio: Cadinot France

Service Actif 2 is a classic Cadinot bareback extravaganza centring on the sexcapades of a randy group of soldiers. Each of the eleven scenes is hot, and several cum to boiling point, including a jail cell threeway, and a kitchen fourway that features an inventive use for yams.
Sortie De Secours - Gay DVD - Studio: Cadinot France
Sex, emotion, and realism pushed to the extreme in Sortie De Secours, a Cadinot classic from 1998 released for the first time on dvd. It's hard to live in a hot city when you love boys! The young star's older bisexual brother is an enemy and his parents a threat. Neighbours, stairs, cellars, and car parks are all a daily trap where the law of nature rules. Regularly harassed, he runs away and takes refuge with a lover who cynically makes use of his distress and demands a right of entry...
S.O.S - Gay DVD - Studio: Cadinot France
Featuring an amazing 14 French boys of every conceivable body type in a series of explosive sexual adventures, this is a Cadinot release not to be missed.
Squat - Gay DVD - Studio: Cadinot France
In the slums, a squat plays host to a lecherous fraternity, bottom-rung artists who spend their time cruising chaste young virgins in public toilets. Lured back to the squat, they're introduced to a multitude of depraved sexual pursuits.
Subversion - Studio: Cadinot France
A provincial town is the stage for this story where Giacomo, a young and beautiful immigrant tries to integrate, accepting all the shit jobs the French refuse to do. He gets a little money on the side at the end of the month by exchanging his charms to one of his sex-mad bosses, the son of the local notary, even the notary himself, against a menu of presents that recompense the mediocrity of his day-to-day existence and brighten up the miserable chalet where he lives, deep in the woods.
Techno Boys - Studio: Cadinot France

Recruited for a TV show, young hunks must hide nothing of their lives on the set and back stage, including fans entering their hotel rooms, the casting session with the producer and his assistant, and firemen and machinists who can't resist their sex appeal ! You'll even see the cameraman dropping his camera to mingle with this flood of sensuality! In this movies produced in 1997, Cadinot preview the real TV mania which will invade our screen few years later.
Tentations De Sodome - Studio: Cadinot France

In Tentations De Sodome, a 20-year-old student refuses to accept his homosexual longings despite the continued efforts of his friends. In the cellar of an abandoned château, he witnesses a fisting scene that troubles him so much it haunts him in his dreams.
The Best of Cadinot 1 - Gay DVD - Studio: Cadinot France
The Best Of Cadinot features a selection of scorching scenes from a host of classic French features! In Garcon Pres De La Piscine a young boy alone by the pool telephones chat lines to keep his mind occupied until the postman delivers a very special package!
The Best of Cadinot 2 - Gay DVD - Studio: Cadinot France
French studio Cadinot presents the second, The Best Of Cadinot compilation, featuring a host of scenes from their vast back catalogue! Pension Complete sees three energetic young lads in Bavaria for their holiday - but it certainly isn't the scenery they're interested in!
The Best of Cadinot 3 - Gay DVD - Studio: Cadinot France
The Best Of Cadinot 3 features more hot vignettes from the French Studio's archives! La Main Au Feu sees bronzed toned Daniel travelling around Cannes in the blazing heat quite literally getting caught with his pants down! Stop Surprise sees a hitch-hiker get picked up by a chauffer-driven Rolls where he spends a sensual evening at a chateau as the guest of two young petrol barons.
The Best of Cadinot 4 - Gay DVD - Studio: Cadinot France
The Best Of Cadinot 4 is a steamy addition to the French studio's series. Eric stops dreaming of muscular thugs in leather jackets, and starts doing them instead in Corps d'Elite, when the line between reality and fiction becomes blurred. In Crash Toujours, the men in white coats of a military infirmary carry out incredibly thorough checks on seven bronzed stallions!
The Best of Cadinot 5 - Gay DVD - Studio: Cadinot France
Cadinot fans are in for a treat another compilation from Cadinot's film. The Best Of Cadinot 5 contains full scene excerpts from Sans Limite, Macadam, S.O.S., Les Minets De L'Info, Etat D'Urgence, Squat, Sortie De Secours, and Desires Voles. Not to be missed...
The Best of Cadinot 6 - Gay DVD - Studio: Cadinot France
Returning to their vast back catalogue, The Best Of Cadinot 6 offers up a host of juicy snippets from fuck-flicks past! Safari City sees an estate agent, a psychiatrist, a motorcyclist and a group of overseas students put a couple's love to the test without limit while, in Double En Jeu, Antoine Mallet's 24 centimetres are to be found in cellars, car parks, deserted offices and warehouses!
Trésors Secrets (Nomades VI) - Gay DVD - Studio: Cadinot France
Despite being only 20 years old, Slim has lots of experience with tourists and is our guide for our discovery of his country's hidden treasures. In discreet places his friends and cousins - some really well-hung guys - fuck the curious.
Le Voyage A Venise - Studio: Cadinot France
Julien, an early-thirties Parisian businessman, lives in the 16th arrondissement with his young boyfriend, Giacomo, in Anges Et Demons (Angels & Demons). The couple live in perfect harmony until the summer evening when Julien, leaving the office, decides to go cruising through the Bois de Boulogne before going home.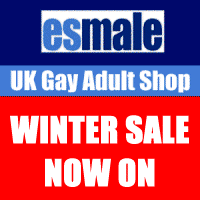 Esmale (UK Gay Adult Shop) sells a large range of gay adult sex toys including a range of fetish and restraint products, Cock and Ball play items, Whips, Paddles and Slappers, Blindfolds, Masks and Hood and are the UK stockist of Mr B leather and fetish products. They also sell a large range of men's designer underwear, condoms and lube, fleshjacks, jock straps and anal toys. Treat yourself!
Save an extra 10% on top of their already discounted prices with our exclusive code 'GAY10'. Click here to shop
See also: www.gayadultshops.co.uk