Summary / Description:
Cadinot is releasing his classic short films from the early 1980s in value compilation form. Seeing as how each of these short film have for years been only available as single VHS videos at premium prices, this is to be welcomed.
The four shorts in Cadinot Classic 1 have never been available on dvd before, and are Stop, Garcons De Reves, Hommes De Chantier, and Escalier De Service. Classic re-issued Cadinot, and not to be missed!

Quatre films complets de Cadinot: Escalier de Service (1987), Le Chantier (1980), Stop (1980), Garçons de Reves (1981)
Escalier de Service has a bunch of hot and hugely hung humpies who run an apartment-painting service, with more emphasis on the "service" rather than painting. Eventually they have several luscious trysts on the staircase, in plain view of all to see. Any of you need their apartment building painted or their throats whitewashed? Terrific "public" sex, with an unexpected and quite hilarious moment of old-lady-neighbor intrusion.
Un jeune minet français a branché dans la rue un beau mâle avec une veste en cuir. Ils entrent dans un immeuble et commencent à se caresser, au milieu d'un escalier de service. Leurs deux grosses queues se touchent et bandent fort, ils se branlent puis le bogosse au look de biker se met à genoux pour vénérer le gland. Grosses biffles, gorge profonde : il fait bien sa salope ! Ce que les 2 amants ignorent, c'est qu'ils sont en train de se faire mater par deux autres mâles. De jeunes ouvriers en rut qui ne peuvent s'empêcher de se branler en regardant le spectacle. Progressivement, l'odeur de la baise envahit tout l'immeuble et tout le monde se met à niquer.
---
Le Chantier (aka Working Men) has moments of pure joy, including a young man secretly leaving his slumbering co-worker to head to the bathroom and jack his meat and douching his puckering hole with a shower nozzle before invading himself with a broom handle - all while his formerly-sleeping buddy watches. (The soundtrack is filed with off-camera screaming and yelling, just so you know.) It eventually leads to deep oral and blown loads. The second part features a chiseled African dude in hardhat working in the underground before a hirsute co-worker happens upon him and decide she wants in... which he does with his fingers the use of an oil can's contents before poking him.
Travailler au chantier, ce n'est pas de tout repos. Un jeune black met toute sa passion au service des machines qui l'entourent. Mais c'est lui qui va devenir une véritable machine à encaisser de la queue quand un mâle viril, moustachu et poilu va venir le surprendre pour le prendre en main. Ce collègue en rut prend les commandes de la mécanique de son corps et fait ressortir la chienne qui sommeillait en lui en appuyant sur les bons trous. Il fait durcir sa queue de renoi soumis avant de travailler son cul entre caresses, doigtage intensif et petites fessées. Il huile même sa nouvelle machine à baise avant d'y insérer sa queue de macho dominant. Un bon coup de marteau piqueur et ça repart !
---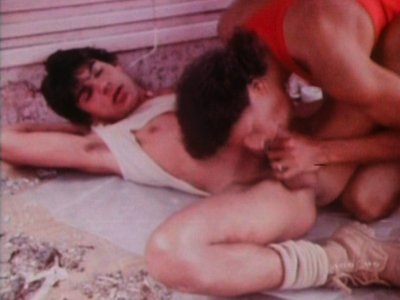 Stop may actually be my favorite (I know - I said I couldn't decide which one was my fave. Well, I'm getting a hardon just writing about it, so this must be the one). Simple set up, astounding outcome: A ridiculously hung young guy is hitchhiking his way to St. Tropez. He meets up with a biker who is more than happy to give him a lift - that is, if our young buck uses his oversized stick shift on him. Wait until you get a load of the hitchhiker's load squirting out of the biker's asshole. Yummy. My only complaint with this flick is that some of these stunners aren't credited in the cast list.
Garçons de Rêves (Dream Boys) is truly phenomenal, and caused quite the uproar back in its day. Stories involving horny-while-pretending-to-take-confession masturbating priests usually are. The film is set in a clinic of sorts, but I guarantee you the A.M.A. hasn't seen anything like this: two massively hung male nurses plow the hell out of a young cover model Laurent Mialat in a sequence that had me rethinking my usual horror at getting my temperature taking anally. When's my next doctor's appointment, anyway?
The package is fitted with some nice extras. Longtime Cadinot collaborator Francois Orenn's 30-min. behind-the-scenes-piece "Les Secret des Secrets de Famille" is a worthy bonus if only to see Cadinot at work, as are the plentiful preview trailers and option of subtitle choice (English, French, German or Spanish), though most of the films contain very little dialogue at all, if any. The cover artwork has been nicely updated as well. The remastering work is commendable, especially considering that most of this footage is well over 30 years old, and was shot on 16mm film without a mag soundtrack. There are a few black specks that pop up here and there, but none of the emulsion deterioration I feared is present in any way. Granted, some of the scenes are very dark - the latter part of Le Chantier (aka Working Men) could have definitely used some lighting adjustments - but who are we to complain? This is absolutely essential stuff, and if you've never seen any of the sadly-departed director's work Cadinot Classics 1 is a fine place to start.